Bi-color camera light with particularly slim housing (only 18 mm/0.7 in) and soft dazzle-free light. Comes with lithium-ion battery and charger.


For photo and video shots with digital cameras and video cameras/camcorders. Particularly suitable for portrait, interview, YouTube video blog, still life, tabletop and macro shots.
14.2 x 9.1 cm (5.6 x 3.6 in.) panel with 116 SMD LEDs (CRI≥95, TLCI=93) located in the panel frame. A clever combination of specifically structured screens and foils focus and scatter the emitted light and thus provide for a high luminance intensity as well as a soft and glare-free illumination.
Color temperature can be adjusted from 3200 Kelvin (artificial light/warm-white) up to 5600 Kelvin (daylight/neutral color rendering).

370 lux maximum illuminance at 1 m (3 ft.) distance and particularly wide 90° angle of radiation (half-value angle). Brightness continuously dimmable.

Digital display shows setting of brightness, color temperature, radio channel and battery charge condition.
Power supply by the included Sony type NP-F lithium-ion battery or the optional mains adapter (code # 3281).
Steplessly adjustable swivel joint with mounting foot for a hot shoe and with 1/4" tripod thread.

A built-in radio receiver allows for a wireless control of brightness and color temperature. 100 radio channels selectable.

Scope of supply: lighting unit, lithium-ion battery, charger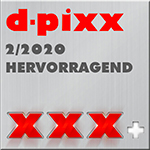 Specifications:
LED panel: 116 SMD LEDs
Color rendering index: CRI≥95, TLCI=93
Color temperature: 3200 – 5600 Kelvin (adjustable)
Max. illumination: 370 lux (at 1 m/3 ft)
Angle of radiation: 90°
Panel size: 14.2 x 9.1 cm (5.6 x 3.6 in)
Operating voltage: 7.2 – 15 V
Power consumption: 13.4 W
Lithium-Ion-Battery: NP-F550 type, 2000 mAh
Operating time: approx. 90 minutes at full power, longer if dimmed down
Dimensions (WxHxD): 165x162x18-35 mm (6.5 x 6.4 x 0.7-1.4 in.) (with swivel joint)
Weight (without battery): approx. 235 g (8.3 oz.)
Weight with battery: approx. 330 g
Charger: Input 100 – 240 V, 50/60 Hz
               Output: 8.4 V, 600 mA
Charging time for supplied battery: max. 4 hours


Accessories
3632 - KNP-F550 Lithium-Ion Battery
3634 - KNP-F960/F970 Lithium-Ion Battery
3702 - NANLINK WS-RC-C2 RGB and Bi-Color Radio Remote Control
6014 - Threading Adapter with 2 x 1/4" threaded pin and lock nut
1215 - Sony/Minolta Hot Shoe Adapter
6049 - "SwingGrip" Combined Mini Tripod and Hand Grip
5857 - Multi-Purpose Stand Base